World Town Planning Day 2019: The Next 60 Years
Deadline to register is Tuesday, November 5th, 4:00 pm
Moderated by Christopher Cheung of the Tyee, this event will build on last year's WTPD celebration of milestones in the past 60 years, and look ahead at the next 60- 100 years of planning in our region. What are the next big moves? How will planners address the region's biggest challenges?What is the legacy we hope to leave for future generations in Metro Vancouver?
Our esteemed panelists include:
Kamala Todd, Indigenous Arts and Culture Planner at City of Vancouver
Eve Hou, Project Manager for New Mobility, TransLink
Andy Yan, Director of the City Program at Simon Fraser University
Heather McNell, Director of Regional Planning and Electoral Area Services
Tammara Soma, Assistant Professor at Simon Fraser University
Complimentary appetizers will be served!
Cost (+ GST):
Students: $10
PIBC Members: $15
Non-Members: $25
Deadline to register is Tuesday, November 5th, 4:00 pm
This evening is supported by Young Anderson Barristers and Solicitors, Modus, McElhanney, BC Housing, & REFBC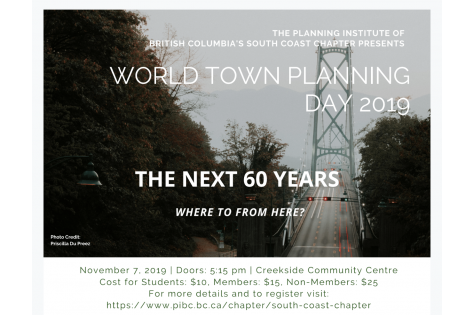 1 Athletes Way, Vancouver, BC
Vancouver ,
British Columbia,
V5Y 0B1