UBC SCARP Speaker Series: SCARP's Leonie Sandercock and Maggie Low
UBC School of Community and Regional Planning
In this new speaker series, starting with UBC SCARP faculty and soon new perspectives and lenses from worldwide experts in planning, we welcome students, faculty, alumni, and planners and friends near and far, to hear new perspectives, network, and ask the pertinent questions of the day. 
SCARP STANDS BY A CUTTING-EDGE APPROACH TO PLANNING, NURTURING INNOVATION, CHALLENGING CONVENTIONS, AND KEEPING PACE WITH A RAPIDLY-CHANGING WORLD AND THE BIGGEST CHALLENGES WE FACE TODAY. WE BELIEVE IN KNOWLEDGE IN ACTION AND PLANNING IN PARTNERSHIP.
As our first event: SCARP's Indigenous Community Planning Co-Chairs, Maggie Low and Leonie Sandercock
Leonie Sandercock
Discussing themes from her up-in-coming book, Sandercock, one of the leading figures in community planning and dedicated to social, cultural, and environmental justice, discusses how we may find purpose and hope in community planning.
Click here for more about Leonie and her research.
Maggie Low
Low shares findings from a study conducted in partnership with AHMA on how BC municipalities respond to urban Indigenous housing needs. How can BC municipalities better support Indigenous-led processes on urban housing?
Click here to learn more about Maggie and her research.
 
Event format
Light refreshments will be served. 
Each speaker will present for 30 minutes, each followed by 15 minutes of Q&A. 
Feel free to stick around for networking and chat.
While these events are in-person, presentations will be recorded and available online for those who can't attend personally.
More events to come! When you RSVP, let us know what ideas you have for future talks! https://scarp.ubc.ca/speaker-series-1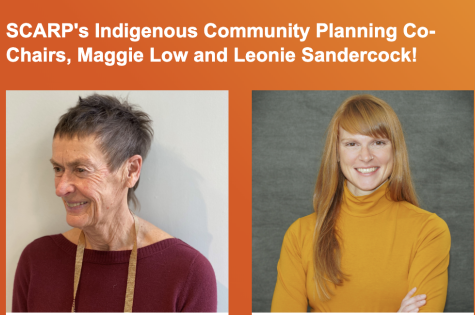 1933 West Mall
Vancouver,
British Columbia,
V6T 1Z2