Ecocity World Summit 2019
This event will run between October 7-11, 2019.
The Ecocity World Summit is the longest running and most significant global forum on the ecological design and operation of cities. This is the first time this bienneial event is coming to Western Canada since its inception in 1990. Ecocities reshape cities for long-term human and ecosystem health. Emphasis is given to compact, pedestrian oriented-development that can achieve a 90% mode split in favour of walking, cycling, and transit. The theme for the 2019 Summit is building the bridge to "Socially Just and Ecologically Sustainable Cities" with sub-themes addressing climate action, circular economy, and informal solutions for sustainable development.
Important conversations will centre on urban design and use of public space, access to safe and affordable housing, bending the urban metabolism to achieve absolute reductions in energy and materials throughput, rethinking economic assumptions, and living within planetary boundaries. The Summit themes weave through these conversations to highlight opportunities for zero emissions buildings and low carbon lifetsyles, green infrastrcuture solutions and effective climate adaptation strategies to increase urban resilience and resource provisioning. Attention is also given to circular economy strategies that incorporate the full-cost of activities and offer fair exchange between benefit-takers and cost-bearers in a global economy. We will also explore how many people are already living sustainable lives within ecological carrying capacity and what lessons can be learned to accelerate the transformation across high-consuming cultures, including opportunities for business and civil society leadership opportuniites.
If you have been working towards sustainability and want practical action for climate stabilization, solutions for living better while using less, and cutting-edge innovation to transform cities into solution spaces that help regenerate ecosystems, then the Ecocity World Summit is the right place to be. Join over 1,000 people from civil society, academia, private and public sectors in over 75 countries for this momentous occaision.
Registration is open at: www.ecocity2019.com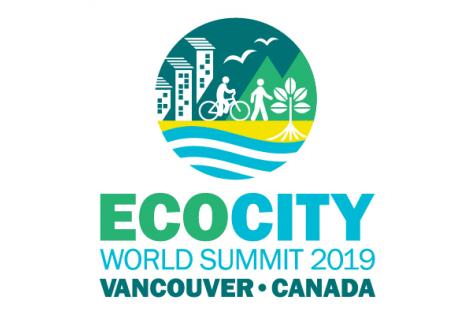 1055 Canada Place
Vancouver,
British Columbia,