PIBC South Coast Chapter
South Coast Chapter Celebrates 60 Years of PIBC
November 16, 2018 -

6:00pm

-

10:00pm
Djavad Mowafaghian World Art Centre - SFU Goldcorp Centre for the Arts
Join us on Friday, November 16th as we celebrate World Town Planning Day and PIBC's 60th birthday! Hear short stories and vignettes from leading planners and community builders who helped shape the region over the past 60 years. Don't miss this great milestone planning event!
Speakers & Participants:
The amazing line-up of participants includes:
Ken Cameron FCIP, RPP, Ray Spaxman FCIP, RPP, Dr. Ann McAfee FCIP, RPP, Michael Geller FCIP, RPP, James MacIntyre MCIP, RPP, Eric Vance FCIP, RPP, Lisa Spitale MCIP, RPP, Mike Harcourt (Honourary Member), Gordon Price (Honourary Member), Shirley Chan, Murray Dinwoodie, Neil Griggs, Doug Halverson, Jane Pickering, Clive Rock, Harold Steves, Ann Whonnock/Syexwaliya, Bryce Williams, Bob Williams.
Program:
6:00 PM-6:30 PM - Cocktail reception, meet friends old and new
6:30 PM-8:00 PM - Introduction and Stories from the 1950s to early 1980s
8:00 PM-8:15 PM - Intermission
8:15 PM-9:00 PM - Stories from the 1980s to 2010
Click here to see the full list of speakers & for more details.
Tickets:
PIBC Members: $45
Non-Members: $65
Students: $35
- All prices subject to 5% GST.
- Prices include refreshments and appetizers and one beer/wine ticket (cash bar available).
REGISTRATION:
Please be aware, that the online Registration is closed now, but we still accept "at the Door" registrants.
For more information about the venue, the SFU Goldcorp Centre for the Arts, please click here.
All registrations are final. No refunds or cancellations are permitted. However, in the event that a registrant is not able to attend, substitution of a different attendee may be accepted if arranged in advance. Any registrant requiring substitution should contact PIBC no later than 4:00 PM (Pacific) on Thursday, November 15, 2018.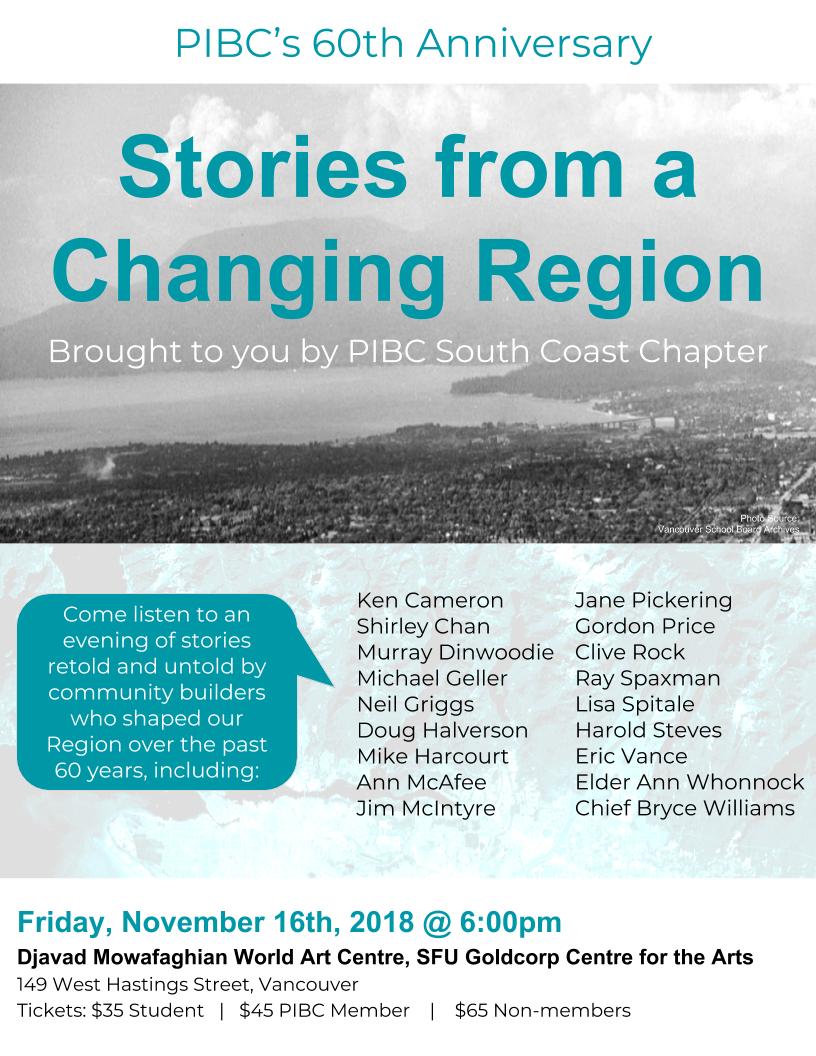 For more information in this section, please follow the links below: