PIBC and Ministry of Environment
Conserving Okanagan Wetlands: Local Government and Provincial Tools
November 20, 2017 -

9:00am

-

4:00pm
Description
Wetlands offer many benefits to our communities, including by providing flood protection and water storage, essential wildlife habitat, and beautiful landscapes.
Local governments play a critical role in conserving wetlands on private and municipal land. In May of 2017 the Okanagan Basin Water Board recognized this important role by formally encouraging the adoption of bylaws that are consistent with best practices for wetland conservation. Across the variety of communities and local governments in the Okanagan, a shared understanding and improved awareness of available local government and provincial tools and best practices will help support wetland conservation in the region.
This FREE workshop will bring together local government and provincial government staff along with local and regional experts and conservation partners to exchange ideas and work together to identify strategies and opportunities to improve wetland conservation outcomes in the Okanagan. Speakers will discuss the current legislative landscape around wetland protection and conservation, share case studies, and outline guidelines, best practices, and tools available for local governments to enhance wetland conservation on private and municipal land.
Speakers include:
Deborah Curran, Acting Executive Director, Environmental Law Centre, University of Victoria and author of the Green Bylaws Toolkit

Todd Cashin, Suburban and Rural Planning Manager, City of Kelowna

Alison Peatt, Shared Environmental Planner with the South Okanagan Similkameen Conservation Program

Neil Fletcher, Wetlands Education Program Manager, BC Wildlife Federation

Bruce Harrison, Head Conservation Science & Planning BC, Ducks Unlimited Canada

Nelson Jatel, Water Stewardship Director, and Kellie Garcia, Policy and Planning Specialist, Okanagan Basin Water Board

Amy Nixon, Ecosystems Biologist, Ministry of Forests, Lands, Natural Resources and Rural Development
This workshop is hosted by the Ecosystems Section of the Ministry of Forests, Lands, Natural Resources and Rural Development in partnership with the Okanagan Basin Water Board and Ducks Unlimited Canada and with the support of the South Okanagan Similkameen Conservation Program, the Okanagan Collaborative Conservation Program, the BC Wildlife Federation, and the Planning Institute of BC.
The workshop is free, with lunch and morning/afternoon coffee breaks provided.
The workshop agenda has been approved for 4 PIBC Continuous Professional Learning (CPL) Units.
We look forward to seeing you there!
REGISTRATION LINK - https://www.eventbrite.ca/e/conserving-okanagan-wetlands-local-government-and-provincial-tools-tickets-38054012576?ref=enivtefor001&invite=MTI3NDQ4NzMvcGR1cHVpc0BsYWtlY291bnRyeS5iYy5jYS8w&utm_source=eb_email&utm_medium=email&utm_campaign=inviteformalv2&utm_term=eventpage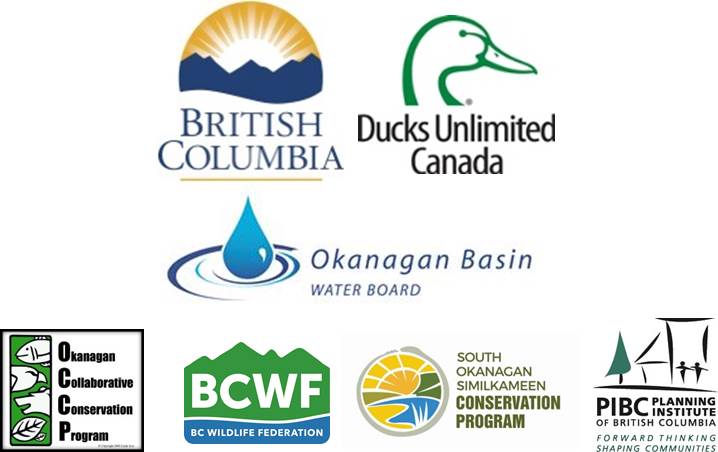 For more information in this section, please follow the links below: